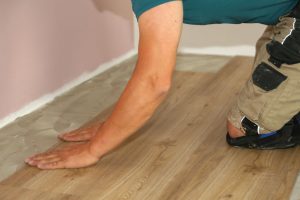 As beautiful as hardwood flooring is, we understand it's not always in the budget. Fortunately, there's an alternative. Luxury Vinyl Plank flooring mimics the look of hardwood, at a fraction of the cost. Here are a few of our favorite benefits of LVP flooring.
What is LVP Flooring?
Luxury Vinyl Plank, also called LVP, is a modern flooring option that is growing in popularity with busy families and businesses. As the name suggests, LVP is made of layers of vinyl that are pressed together into planks, in multiple layers. Typically, there is a waterproof backing layer which prevents mold and mildew. On top of that is the core which makes up the bulk of the plank and provides more of a "cushion" than older versions of thin vinyl flooring. Next, it's topped with a high resolution image, typically made to mimic the look of wood. Finally, a transparent wear layer is applied that provides a scratch- and stain-resistant finish.
Benefits of LVP Flooring
Waterproof
Thanks to the waterproof backing layer, LVP flooring can get wet without fear of damage. It is completely waterproof, making it a great choice for any room, including bathrooms and kitchens! Unlike many other types of hard flooring, LVP won't buckle or warp from exposure to water or other liquids.
Scratch-resistant
LVP Flooring is perfect for busy families and pet owners who love the look of hardwoods, but rough play or heavy traffic is a concern. Though it isn't completely immune to damage, scratches, chips, and scuffs aren't a concern with LVP. It is especially durable, and it doesn't have to be refinished like hardwood.
Cost Effective
Another major benefit of LVP flooring is that it is a more cost-efficient option compared to its hardwood counterpart. LPV flooring typically ranges between $2 to $7 per square foot, whereas hardwood flooring usually runs $5 to $10 per square foot.
Easy to Install
LVP flooring is made with the DIYer in mind. The planks are designed to fit and lock together (often called tongue-and-groove), with no need for glues, solvents, or other chemicals. And compared to many other flooring types, LVP flooring can be installed cheaply (especially if you do it yourself!).
Easy to Maintain
Another thing we love about LVP flooring is that it's easy to maintain. This is especially beneficial for homeowners who suffer from allergies. For daily cleaning, a broom, dust mop, sweeper, or vacuum can be used. For wet mopping, using just water is usually enough to keep it looking and feeling clean. Floors that look dull over time can get their shine back with polishes specifically for vinyl floors (no wax).
LVP Flooring in Seymour, Indiana
We know it can be overwhelming when there are so many options for flooring, and we want to help! We'd love for you to visit our showroom where you can see our huge selection of flooring samples, and even take a few home to see how they will look in your space. Give us a call or submit this form to schedule a design consultation today. We can't wait to get started!