Choosing to update the floors in your home is a big decision. But with so many different types of flooring on the market today, it can be hard to know where to begin. Luckily, you've come to the right place!
At Seymour Decorating Center, we love helping our customers and friends find exactly what they're looking for. We'll help you narrow down the best types of flooring for your space, then help you find the exact product that best matches your style and vision.
Types of Flooring on the Market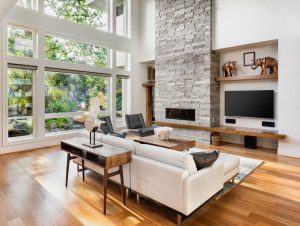 Hardwood
Hardwood is a timeless classic flooring option for any home. It is durable, easy to clean, and adds value to your home. Although it is a bigger investment upfront, hardwood will last for decades, making it a cost-efficient option.
Luxury Vinyl Plank
Luxury vinyl plank, also called LVP, is a great option for busy families thanks to its waterproof, scratch-resistant finish. LVP is a wood-look flooring option that has become a popular choice for modern and durable floors. A more affordable alternative to traditional hardwood flooring, LVP has great warmth and texture underfoot and is relatively easy to install.
Tile
A popular flooring option for bathrooms and kitchens, ceramic tile comes in a huge variety of shapes and colors. Many coastal regions use ceramic tile as the main type of flooring because it is moisture- and humidity-resistant.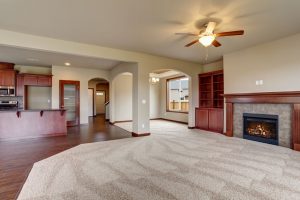 Carpet
Carpeting is a popular flooring option for bedrooms and family rooms. From soft and plush, to durable and hard-wearing, there is a carpeting option to suit your needs and style.
Rugs
If you're not quite ready to commit to a new flooring option, you might consider a rug. Rugs are a great way to update your room without taking on a construction project. And with so many shapes, colors, and styles available today, finding the perfect rug has never been easier.
Some Other Considerations
Of course, there are some things you'll want to ask yourself before you decide on new flooring.
What is the function of the space? Consider who will use the room and how often it will be used. The flooring type you want for a bathroom might be different from the flooring you choose for a bedroom or a rec room.
What is your budget? Of course, budget dictates all kinds of things and flooring is no exception. Just tell us your budget, and we'll help you narrow down your options.
Who will be installing the flooring? If you're planning to DIY your flooring install, you have a few options that are designed for just that. Some types of flooring are trickier or more time-consuming to install, and you will likely want to hire a professional (like the team of flooring installers at Seymour Decorating Center).
How much time and effort will you be able to put into cleaning and caring for it? There are lots of flooring types that are designed to be easy to clean and maintain.
Schedule a Consultation with our Designers!
We know it can be overwhelming when there are so many options for flooring, and we want to help! We'd love for you to visit our showroom where you can see our huge selection of flooring samples, and even take a few home to see how they will look in your space. Give us a call or submit this form to schedule a design consultation today. We can't wait to get started!