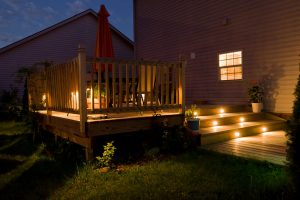 Most of us have spent a lot of extra time at home these last few weeks, and we've been able to check a few home projects off our list. As the weather continues to warm up and everything is blooming outside, our back decks are getting more use than usual.  
Decks are constantly exposed to the elements and this can take quite a toll on them, especially here in Southern Indiana where the weather can be so unpredictable. A deck is a functional and valuable part of your home and it is worth maintaining.  
Protect Your Deck with Deck Stain or Sealer
from Seymour Decorating Center
The best way to maintain any exterior wood is with a stain and/or sealer. This helps to repel moisture, avoid cracking and warping, and extend the deck's lifespan.  But how do you know when you need to care for your deck? Here are a few telltale signs that it's time to stain your deck. 
Time
When was the last time you took action to maintain your deck? What products were used then? If it's been a while or lower-quality products were used, you might need to stain your deck.  
It is usually recommended that a deck be treated every one to three years, depending on weather, sun exposure, and use. 
Absorption
One easy way to tell the "health" of the wood of your deck is the water test. You want your deck to repel moisture. If it is absorbing water, it can become slippery, discolored, or warped.  
Drop a few splashes of water in various spots around your deck. If the water soaks into the wood quickly, your deck could be in trouble. However, if the water beads up on the wood, your deck is probably still in good condition. 
Integrity
Another way to tell the health of your deck is to simply check for signs of deterioration. These signs may include splintered or split boards, rotting or soft spots in the wood, or boards that are mildewed or become slippery when wet.   
If your deck shows some of these signs in a more light or moderate way, it is likely time to stain. If the deterioration process seems more advanced, it is probably a good idea to replace some of the boards before you stain.  
Appearance
Finally, simply checking the appearance of the deck's existing finish will give insight into whether it is time to stain. If the finish looks patchy, flaky, worn, or uneven, it's time to treat the wood.  
When your deck begins to show signs that the current coating is starting to fail, you have an opportunity to treat the wood before it gets worse. Treating your deck before it really begins to degrade can help extend its lifespan.  
Need Help Staining Your Deck?
Staining a deck is something that DIYers do themselves pretty often, and we have confidence in you! However, we understand that taking on any new project can be a bit overwhelming at times. At Seymour Decorating Center, we have all the stain, paint, or other supplies you need to get started. And what's more than that, we can offer you expert advice to make your project a success. Give us a call or stop in today!