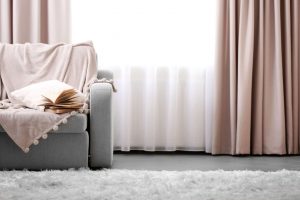 After wall color, furniture, and flooring, window treatments can often be a bit of an afterthought when designing a room. However, just like you might choose a dress to match your favorite shoes, we think a room can be designed around a style of window treatments you love.
Here's our must-know list of window treatment do's and don'ts.
DO consider function when choosing window treatments.
We love everything from sleek to funky when it comes to interior design. But even more than style, function is so important when choosing window treatments. Before deciding on a window treatment, consider the use they'll get and how much light you will want to block.
In a bedroom, you might want to block as much light as possible, but in a basement, you may want to keep plenty of natural light.
Safety is another consideration. If there are toddlers in the home, choosing cordless blinds will be important.
In a high-traffic area, like the kitchen, floor-length drapes may not make sense. Instead, you might want to install a roman shade or café curtains.
DON'T use drapes that are too small or short.
When measuring for drapes, consider the amount of wall space that will be covered by the drapes, not just the size of the actual window.
An easy way to make your space look and feel bigger is to hang drapes high and wide. A general rule of thumb is to hang drapes at least 12 inches above the window frame or all the way to the ceiling. Extending the curtain rod out three to six inches on each side helps as well.
Too-small drapes that rest right above the window frame can make the room appear smaller and look crowded. In addition, drapes that are too small let in less light. When open, aim for your curtains to fall no more than two inches inside the frame on each side.
DO use layered window treatments.
Just like you use a tailored blazer or your favorite moto jacket to top-off an outfit, you can use layered window treatments to take a room to the next level. Whether using a set of sheer drapes paired with full curtains, or shutters topped with a valance, designer windows almost always sport layered window treatments.
Using layered window treatments can be both functional and beautiful. Layers let you easily change the function and mood for a room. For example, to set the mood for a causal weekend brunch, just pull the sheer drapes closed. For times when you prefer less sunlight or more privacy, close the full set.
DON'T skimp on quality.
Just like anything else, you get what you pay for when it comes to window treatments. Plastic budget blinds may be cheaper upfront, but they will also break and discolor easily. They are also often harder to clean and can detract from the overall attractiveness of your space. Replacing broken blinds is a hassle, and after paying for a replacement once or twice, you could have just had higher-quality treatments in the first place.
DO ask Seymour Decorating Center for help.
We know that designing a room that you love isn't always easy. We love helping our clients create a room that is as beautiful as it is functional. From floor to ceiling, we've got the products, services, and advice to help bring your inspiration to fruition. Stop by the store, give us a call, or fill out this form to schedule a free design consultation today!