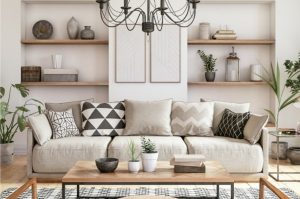 2020 may go down in history as the longest year ever. Sure, it was a Leap Year, but mostly, it has seemed endless. Some among us have spent the past 10 months locked away from the world.
So, what has emerged from all this home-bound isolation? An overwhelming desire to make changes in our homes!
According to Elle Décor, we're rethinking home. And as a result, we're seeking a more relaxed and cozier environment. Look for more furniture in a room, but on a smaller scale. We'll see more plush and very comfortable. Decorators suggest you consider adding a great antique, a game table, and a seating area just for reading. It's nice to think of sharing space with someone while you both pursue your own interests. Other popular trends to spot are the rise in popularity of natural woods, rattan and wicker.
To spice things up, work in a painted piece—a table or cabinet in a favorite, strong accent color. Since staying in is the new going out, think about copying the atmosphere of your favorite bistro in your own home. Rearrange furnishings to take advantage of a view outdoors or serve dinner on the game table or coffee table. Add candles and soft lighting for a romantic touch.
According to Better Homes & Gardens, this is the year that changed how we live in our homes in a handful of ways:
A nod to nostalgia, we've discovered Art Déco or Victorian accents.
Furnishings may be plush, but they have to be easy to clean thoroughly—the virus taught us that.
Warm, earthy colors and rich earth tones are edging out gray. Look for camel, olive, burnt orange and a variety of blues.
Natural materials create a warm, traditional look that's easy to live with. Wood, jute, leather and ceramic enhance interiors, and add live plants for the final natural touch.
No one is more ready to close the door on 2020 than those who've been locked down for months, but somehow, being locked down in surroundings you love can make captivity a whole lot more liveable.