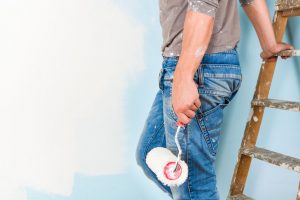 We always say that a fresh coat of paint is the fastest, easiest, and cheapest way to change the whole feel of a room. There is one caveat though – it's not so fast or easy if you don't know which color to choose. Here are a few tips to help you choose the right paint color for your home.
Pull inspiration from existing pieces and favorite colors.
Got a favorite piece of furniture? A piece of heirloom art? How about just a favorite color? Use those as inspiration to create a color palette for your room and to ultimately help you choose the right paint color.
Take the purpose of the room into account.
Another thing that will help you choose the right paint color is considering the purpose of the room. For example, if you're painting a master bathroom and will need lots of light, choose something a little lighter and brighter.
Decide on a few mood words for the room.
Getting a solid idea of the feel you're going for in the room will be important to choosing the right color. How do you want to feel when you walk into this room? Comforted and relaxed? Energized and cheerful? Or maybe you're going for something romantic or dreamy. See if you can choose two or three words that you would use to describe the feel of the room. This can help you narrow down a few colors in a palette or eliminate colors that don't jive with your mission.
Get a paint sample first.
We know you're excited to get started, but trust us on this one. Get a paint sample first. In fact, get a few samples. And don't just paint a little swatch on one wall – try it out on all four walls. Give it a few days, and see what it looks like throughout the day in different types of light.
Consider the undertones of trim, cabinets, and flooring.
Unless you're going to be painting the trim or installing new floors, taking these colors into consideration will be important to a cohesive finished look. For example, if you're working with wood trim or floors, think about what kind of wood you have. Does it look a little reddish? More brown? Maybe even a little yellow undertone? Try some paint samples with the same or a complimentary undertone for your wall color.
Ask the experts at Seymour Decorating Center.
Finally – don't stress. You don't have to be an interior designer to create a room you love. We can help! No matter if you're wishy-washy, overwhelmed, or just don't have time to choose the right paint color for your room, our designers would love to fill in the gaps. Stop by the store, give us a call or fill out this form to get started.