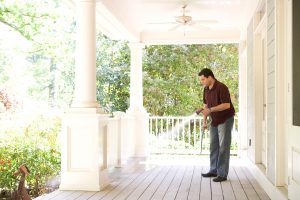 5 Tips to Celebrate National Decorating Month
Spring brings many things: warmer weather, longer days, budding flowers and trees, the promise of summer. As seasons change, many of us start spring cleaning and refreshing our spaces. April makes the perfect month to celebrate decorating! Below are five tips to keep in mind as you're crossing off to-do list items during National Decorating Month. 
One room at a time:
Implementing the "one-room method" while decorating will keep the focus on the big picture for each room. Besides that,  a realistic project timeline and decorating budget can be set. Start with some inspiration and gather ideas. Then, make a list of what you would like to purchase and the supplies needed. Finally, set a goal for when you will start and end the project. Don't forget to take "before" and "after" photos so you can admire the progress! 
Start with a clean space:
It is best, when decorating or redecorating, to start with a clean space. A clean space will allow both your mind and the room the freedom to think about decorating. Go through the shelves and cabinets. Clear off the coffee table. Get the counters free of clutter. Fresh eyes allow you to know what actually needs to be on the decorating-to-do-list.
Don't forget about outdoor spaces:
When decorating this month, keep in mind your outdoor areas! Turning your outdoor areas into oases doesn't have to take much!  It is amazing what some fresh paint or stain, an outdoor rug, and some comfortable furniture can do to bring an old deck or patio back to life. Bring your indoor style out, and you've doubled your square footage for entertaining.
Fresh paint – New life:
When looking around at a room, it can feel like a daunting task to update an outdated space. To keep the decorating budget-friendly don't forget the power of fresh paint! Walls, ceilings, furniture, cabinets, and more all can be brought into your new style with a good paint job. 
The power of finishing touches: 
As you're decorating, don't underestimate the power that finishing touches hold. New curtains, plants, area rugs, throw pillows, blankets, artwork, and candles make a project feel cozy and complete. 
At Seymour Decorating center, we are thrilled to celebrate National Decorating Month along with you! We can lend one of our expert designers to help you get started on a project or consult you with decisions on paints and stains, flooring, rugs, curtains and blinds, pillows, and wallpaper!